As we hiked in the mountains, we were drawn by the tinkling sound of cowbells to a meadow where we came upon a breathtaking vista: a cluster of velvet-brown cows grazing among wildflowers, with the rugged limestone peaks of the Dolomites in the background. And just as entrancing as the view was the smell of freshly cooked pasta wafting our way from a rifugio, a traditional alpine shelter offering protection from sudden storms, hearty rustic fare and, in this case, a bed for the night. There, perched along a steep cliff at the edge of the meadow, we were soon seated at a table on the balcony, taking in the view along with one of the best meals we've ever had.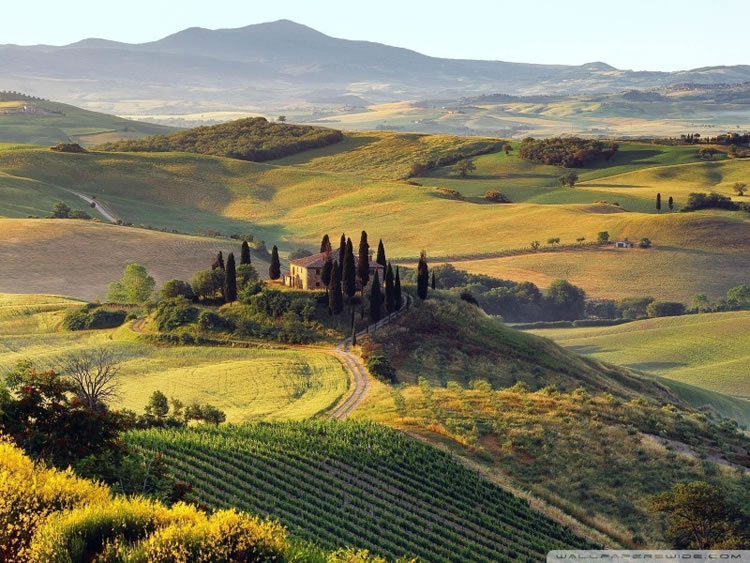 That kind of total sensory experience, as much as Italy's better-known wonders of art and architecture, reveals what is so fascinating about the country. A visit to Italy is a lesson in living well. Open-air vegetable and fruit markets, neighborhood bakeries and fresh cheeses made daily are fixtures of Italian life. Tradition reigns: Neighbors still meet in the piazza to discuss the day, laundry is still line-dried, even in the largest of cities, and the passeggiata (leisurely stroll) is still made in the evening air – preferably with a gelato in hand. From the mountains to the coasts, the emphasis is on simple pleasures and high quality.
Climate in Italy
The best period to enjoy Italy is from mid April to mid June or mid September to the end of October, when the days are usually in the 70-80s F/20-32 C, with nights in the 50-60s F/10-20 C.
July, August and the first half of September are generally quite hot (high 90s F/34-37 C), humid and very crowded with tourists.
The winters in the north are chilly — 50s F/10-15 C or colder in the day and much colder at night (often below freezing).
In the south, winters are milder, but you'll still find it too cool to lie on the beach or too drizzly to tour happily. The best time to drive the Amalfi Coast is May to mid June and mid September to mid October, when there are fewer cars on the road. Bring a sweater for evenings year-round.
General Informations
Currency: EUR
Web Domain: .it
Capital Time Zone
GMT+01:00 1 hour ahead of Greenwich Mean Time. Daylight Saving Time is observed March-October
Telephone codes
+39, country code; 06, Rome; 02, Milan; 055, Florence; 041, Venice; 075 Perugia
Complete country name: Italian Republic
Capital City: Rome
Area: 301,230 sq km
Relief: Mostly rugged and mountainous; some plains, coastal lowlands
Population: 57,679,825 (July 2001 est.)
State government: Republic
Language: Italian (official), German, French, Slovene
Religion: Predominately Christian (Roman Catholic)
Life expectancy: 79.14 years
Climate: Predominantly Mediterranean; Alpine in far north; hot, dry in south
National Day: Republic Day, 2 June 1946
Cuisine: Pizza, pasta, gelato, zabaglione, tiramisu
Credit cards: All major credit cards accepted
Mobile operators: TIM, Vodafone Omnitel, Wind, Tre
Electricity: 220 volts AC, 50Hz
Speed limits: Town – 50 kph; open road – 90/110 kph; motorway – 130 kph
Passport/Visa U.S.
Passport needed by Australian, Canadian, U.K. and U.S. citizens. No visa required if staying less than three months. Reconfirm travel document requirements with your carrier before departure
Tipping overview
Do not expect a 10%-15% service charge to be added to your restaurant bill or to the taxi fee!!! In Italy tipping is not so common but obviously welcome.

Eat well, Drink even better
Viva! Viva spaghetti, pizza, tomatoes, olive oil, espresso coffee and cappuccino! But is it all really Italian in origin? The answer is of course "no" but even food products from other continents have been enhanced in a way only the Italians know. A thousand mouth watering dishes await the intrepid traveller, hundreds of gastronomy specialities, a host of truly tasty typical products, and all kept very much alive by a modern agricultural system that is careful about preserving the traditional flavours and nutritional values.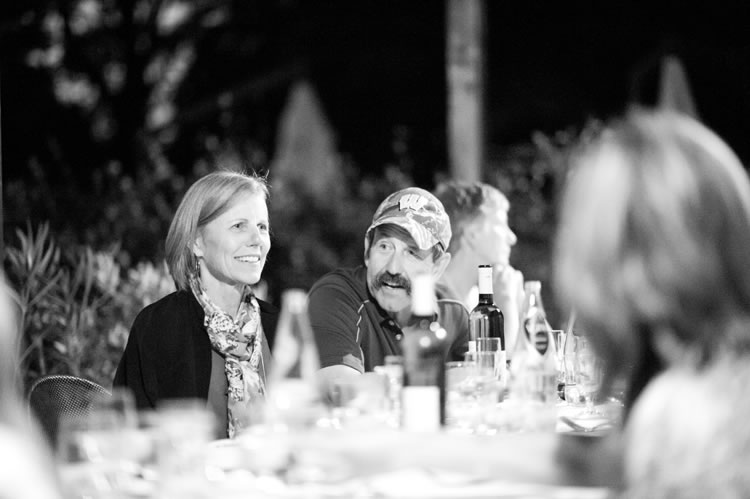 Wholesomeness and freshness are the watchwords in all Italy's table specialities, in all of their countless variants, from the Piedmont's fondue in the north to Sicily's caponata in the south, from the risotto alla milanese to Campania's mozzarella cheese, from the Veneto's risi e bisi (sweet-peas and rice) to Rome's porchetta, from the trenette al pesto of the Ligurian coast to the Florentine steaks, to the lasagna of Emilia Romagna or the spaghetti alla chitarra of Abruzzo.
Another great reason for coming to Italy is therefore (and in many cases, indeed, simply is) the desire to taste Italian cooking as the Italians really make it. So whether you're enticed by the food at one of the best-known restaurants in the cities famous for their gastronomy, or are quite happy to try the fare of the thousand small trattorie dotted around the country, you are sure not to be disappointed. Or, to try something slightly different, what about the family-run osterie (literally hostels) and ristoranti you can come across in the most characteristic parts of the historic centres? They specialise in reinventing traditional dishes or rediscovering typical agricultural products such as spelt, barley, wheat, vegetables, and olive oil. The perfect way to delight your taste buds without adding to your waistline. To complement your meal perfectly you will want to order a good wine that is free from the chemical processes so much in use today. So relax and choose an Italian wine – again, the choice is broad, but always satisfying; the bright whites to go with white meats, the robust reds for red meats, and then there are the rosés, the sparkling wines, the fortified wines, the liqueurs and the grappas: something to go with every stage of your meal, from an aperitivo at the beginning to a refreshing lemon or strawberry sorbet to round off a perfect evening.
In sum, never has there been a better time to eat and drink well in Italy.
Where to taste the real Italian Food?
Italians are quick to tell you there's no such thing as Italian food. Rather, each city or region has its own distinct cuisine. In the north of the country, you'll find risotto, polenta and cream sauces that are not at all native to the south. The south offers spicier foods, the original version of the pizza (from Naples) and buffalo mozzarella. Always try the specialties of a region — they are often absent from menus elsewhere, or of a lesser quality.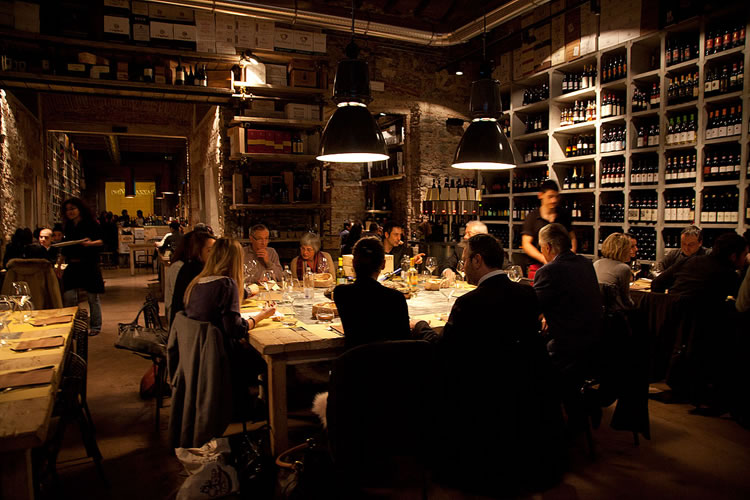 In Tuscany, for example, one generally finds more gamey foods, such as pheasant (fagiano), wild boar (cinghiale) and truffles (tartufi). You can't visit Genoa without trying real pesto, traditionally served with a mixture of pasta, potatoes and green beans. Roman food is typically less refined, with such dishes as spaghetti carbonara, bucatini all'amatriciana (pasta with a spicy tomato-and-bacon sauce) and trippa (tripe), which, if cooked well, can be delicious. Many visitors are already familiar with Parma's famed prosciutto di Parma and Parmigiano-Reggiano cheese. For spicy food try anything from Reggio di Calabria, but in particular the ultra-hot salami, salsiccia piccante, that's sold everywhere. Sicily, the birthplace of Italian pasta and gelato, has synthesized the culinary traditions of the many different cultures that have passed through the island. Overall, Italian chefs continue to remain faithful to seasonal produce, which is one reason everything tastes so good.
As prosaic as it may sound, one of our favorite meals is pizza and gelato (ice cream). Check out where the locals eat and join them for lunch or dinner at a pizzeria. The standard tomato, basil and cheese variety is called a margherita, but there are so many more choices, you'll want to try a few.The best restaurant pizza is cooked in a wood-burning oven: Look for the sign, "Forno al Legno" outside. For pizza in a more casual setting, the best is pizza rustica. After you select your pizza from large trays, it's cut and heated in a hot oven, giving it a crisp bite. Then take a walk around the block, gelato in hand. It is, in and of itself, a reason to visit the country.
Wine in Italy is excellent and comparatively inexpensive. Two categorizations that are helpful to know are D.O.C. (Denominazione d'Origine Controllata, meaning that it has been inspected and guaranteed by the government) and vino da tavola (table wine). Wines and spirits with the D.O.C. label are generally of superior quality, but table wine is usually very drinkable and is sometimes preferable — especially in Tuscany. Red wines are made just about everywhere, while the Piemonte and Veneto regions in the north are better for white wine. Nice local wines, which evoke the place they're made, include Chianti Classico Riserva, Vernaccia di San Gimignano, Orvieto Classico, Pinot Grigio and Montepulciano d'Abbruzzo. Stop by anenoteca (wine shop and bar) in any major city and you will find bottles from all over the country and knowledgeable clerks to help you. In anenoteca you can also pick up some of Italy's unique liqueurs. Besides amaretto, which is primarily from the north, other popular choices arelimoncello, a sweet, lemon liqueur made in the south around Naples, Sorrento, Amalfi and on the island of Capri; amaro, a bitter liqueur produced thoughout Italy; and grappa, a stronger digestivo (digestive liqueur) made in several regions.
There are three categories of restaurants: From most expensive to least, the classes are ristorante, trattoria (a more casual ambience and style of cooking) and osteria. Moreover don't forget that what Italians call "Pizzeria" is often a restaurant as well, were you can order pasta, tiramisù and many regional typical products.
Eat a meal in each category — just because it's cheap doesn't mean it's bad, and each has its own atmosphere. To eat like an Italian, have a nearly vaporous breakfast in the morning (consisting of cappuccino or espresso and a pastry, eaten standing at a neighborhood bar), a normal lunch around 1 pm (restaurants close from 3 pm until dinnertime, so don't wait) and a full dinner at night (often not before 8 or 9 pm). For a light snack between meals, head to a cafe, where you can pick up something to drink and panini (sandwiches) or other light fare.
Tipping is not so common but obviously welcome.

When Nature is protected
The most effective way to fully protect nature and conserve it is through planned protection measures organised at state level. The amount of Italian territory under state protection in one way or another is 10%. Environmental protection laws have allowed many nature parks and reserves to be opened which are used solely for developing nature in all of its forms. In the Italian parks and nature reserves, therefore, not only are the animals untouchable but also the plants, minerals, water and even the air.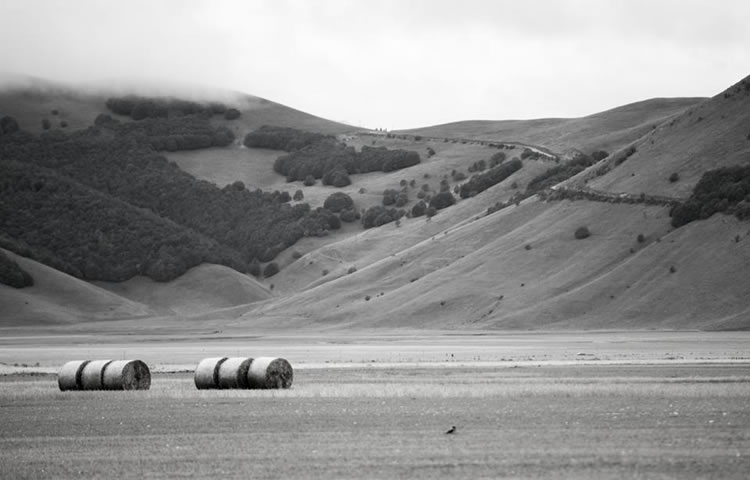 Italy has 18 National Parks, 89 Regional Parks, 270 Regional Reserves, 142 State Reserves, 47 Marsh reserves and 7 Marine Reserves, which are protected zones managed either by the State in some form – Regional Councils, Provincial Councils and Municipalities – or by the environmental and protection associations such as Italia Nostra, WWF, Lega Ambiente, Greenpeace, LIPU, Touring Club, etc.
The National Parks are: Abruzzo (the oldest, officially opened in September 1922), Gran Paradiso (opened a few months after the Abruzzo park), Circeo, Stelvio, Calabria, Pollino, Monti Sibillini, Archipelago Tuscany, the Caserta Forests, the Belluno Dolomite mountains, Aspromonte, Cilento-Valle di Diano, Gargano, Gran Sasso-Laga, Maiella, Val Grande, Vesuvius, and Gennargentu-Asinara-Golfo di Orosei. We have listed all of them to show how in Italy Nature is loved and protected as much in the North as in the South.
What better reason, then, for planning a trip to at least one of Italy's "natural" attractions?
Thermal spas and well-being from water to water…
Thermal waters have been used for hydrotherapeutic purposes in the Mediterranean region since ancient times as can be seen from archaeological finds, literary and scientific writings and numerous epigraphs. These treatments have, for the most part, been left unaltered over twenty-four centuries since the age of the ancient Greek philosophers, through various historical periods, and with the exception of the introduction of advanced technology. Hippocrates was a great believer in the use of thermal spas and in his treaty Use of Liquids he sang the praises of the properties of mineral waters and hot springs.
As time went by, use of the experimental method led to an innovative approach in using thermal waters for therapeutic purposes and new treatments being introduced.
Fortunately, society progressed and the amount of available financial resources increased among all sections of the population thus making it possible for everyone to benefit from thermal treatments. The advantages of these treatments are not only linked to the waters' curative properties but also to the beauty and natural attractions that are a general characteristic of Italian spas. The idea of treatment also being a means of recovering energy and physical well-being is quite rightly connected to the idea of a holiday resort and intelligent use of leisure time.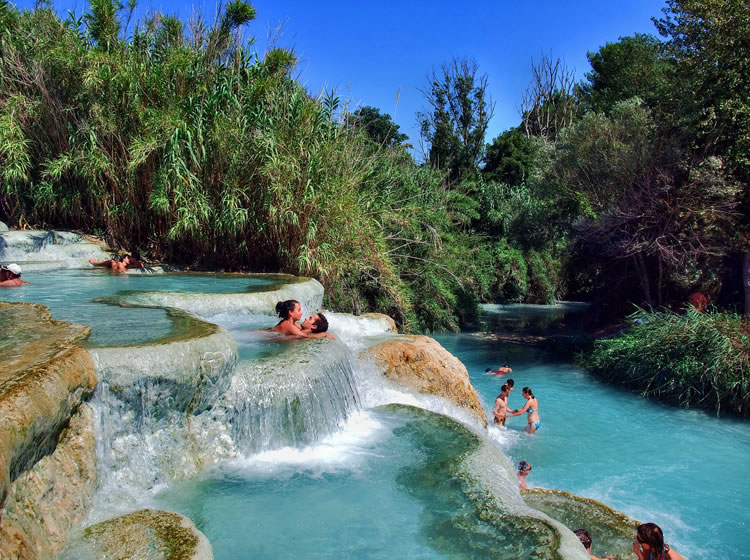 In this way the ancient tradition of thermal waters was modernised and brought up to date. And today more than ever, the use of new methods has turned it into a fundamental tool of modern medicine.
Therefore thermal resorts' success is linked to the overall quality of life in the spas. Indeed there is no doubt that the environment plays an important role in treatments which involve rest or seasonal cures. And a stay which offers a large range of possibilities both with regard to broadening cultural and artistic knowledge and the climate is extremely advisable.
Italian spas can boast outstanding climatic conditions and are located in areas of great natural beauty. These characteristics have a positive influence on our body's balance and contribute to general physical and mental well-being.
Therefore it is obvious that Italy's richness in thermal and mineral waters, combined with the mildness of the climate and the beauty of the scenery, have made it a favourite venue for "health care tourism". Since the last century hotels with extensive facilities have grown up around spas, which have established international reputations. Abano, Salsomaggiore, Chianciano, Montecatini, Fiuggi and Ischia are just a few of the names among the many which are known throughout the world and which attract millions of visitors every year.
As we already know, thermal waters have been used in Italy for therapeutic purposes since the time of the Romans when thermal waters and baths were a typical feature of town life. Italian spa resorts' proximity to great centres of art means they are perfect bases for cultural excursions. In addition the splendid parks surrounding the most famous spas and the facilities and services made available to tourists makes them ideal holiday resorts in their own right.
Italian spas do not have solely hot water resources to offer insofar as mineral ("cold") springs are also used for drinking purposes. The wealth of hot and mineral springs in Italy is the result of its particular geological structure which is rich in volcanic phenomena and permeated, in every sense of the word, by a dense network of groundwater channels, in North Italy many spas have sprung up on the Euganei Hills in Veneto – volcanic highlands where numerous hot springs gush out. The main form of treatment in this area is mud therapy recommended for rheumatic illnesses and problems regarding the respiratory system and female genital organs.
In the city of Abano, a rather strange legend would have that Phaeton, son of the Sun god, fell to the ground there with his chariot in flames. His fall caused waters to spring forth which were able to relieve fatigue and pain (aponon – hence the name Abano).
Moving further south, there is a series of thermal resorts in Emilia-Romagna on the foothills of the Apennines. Many of these (Tabiano, Salsomaggiore, Castrocaro) identify themselves with their thermal waters to the extent that the word terme (spa) is part of their official name. The springs have similar chemical properties (predominantly sulphurous, and often containing sodium chloride, iodide or bromide). They are recommended for a wide range of afflictions: metabolic disorders, respiratory and vascular problems and skin diseases.
Tuscany is another Italian region with a high concentration of spas whose waters were already in use in ancient times and are still popular today, including Saturnia, Roselle, Chianciano and Chiusi. During the last century Tuscan thermal spas underwent great changes. Resorts such as Montecatini and Chianciano are no longer exclusive holiday resorts and have equipped themselves to cater for a growing number of visitors. Montecatini and Chianciano have gradually become more and more important and statistics prove the reputation they have acquired. Montecatini can boast 1,700,000 visitors per year (a quarter of these coming from abroad) while Chianciano can boast 1,860,000 visitors per year (180,000 foreigners).
The spa resorts in Lazio are linked to the volcanic activity which has shaped the morphology of much of the region. Bagni di Tivoli, on the outskirts of the capital and Fiuggi, further south, are especially well known. Fiuggi waters are especially noted for the treatment of kidney stones and their fame has led to the development of over two hundred and fifty hotels.
In southern Italy the numerous spas forming an arc around the Gulf of Naples are extremely important. This is one of the most active volcanic zones in Italy, characterised by large layers of magma located close to the surface.
Ischia is among the most famous thermal spas in Italy and abroad. Its radioactive waters are particularly recommended for arthritis, rheumatism, obesity and metabolic disorders.

Leasure & Pleasure in the Italian Life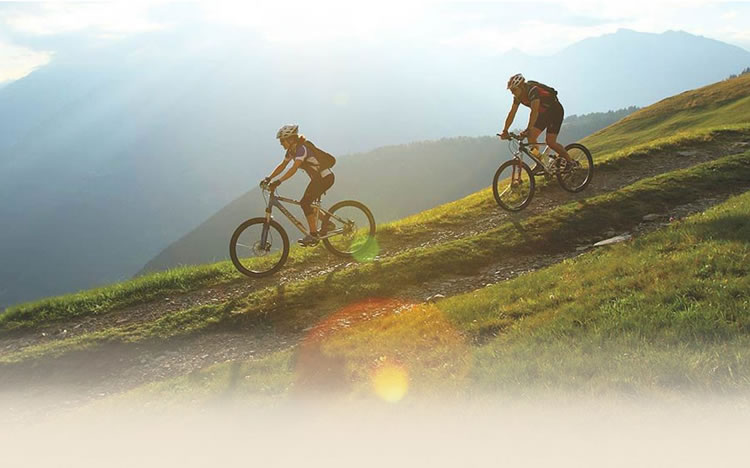 In Italy there are a thousand ways to use your free time: practising sports, cultivating hobbies, relaxing, developing your culture, going to a concert, a play, a traditional festival, or to watch a sporting event. Or, simply sitting in a bar and enjoying a cappuccino or a glass of good wine, or wandering around the beautiful towns – large and small – admiring and visiting their churches, palaces, monuments, castles, archaeological sites, museums, galleries, squares and streets.
In Italy there is no problem: just being here is already the best way to spend your free time.
Shopping made in Italy
Shop for leather goods (Florence, Rome and Milan), silks (Como), truffles (Spoleto and Rome), antiques, clothing, wood carvings, embroidery and lace, silver and gold jewelry, violins, ceramics, objects of marble and alabaster, glass (Venice), decorative paper (Florence and Venice), food products, and wine or liqueur. Also fun to buy are ingenious kitchen utensils/accessories. In Vatican City, look over Vatican postage stamps and a wide variety of religious products (including relics).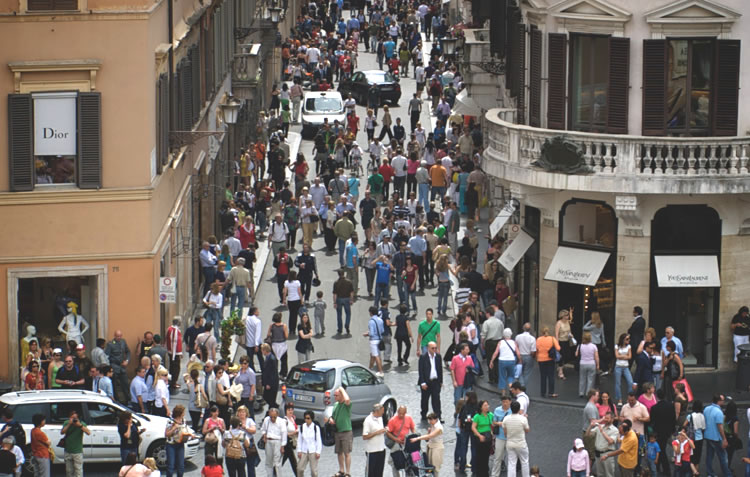 Clothing, both men's and women's, is often of excellent quality, with a high style quotient (and often the price tag to match). Custom-made suits can be good buys, and many people consider shoes the best thing to take home from a trip to Italy.
For true bargain hunters, many designer outlets (think Prada, Fendi, Gucci and Armani) dot the northern provinces, especially outside Florence, Como and Milan. McArthur Glen opened the first true outlet mall in 2001 at Serravalle, between Milan and Genoa. It was so successful the company has opened another in Castel Romano, south of Rome, and plans to open a third outside Florence in late 2004. (Florence already has one designer outlet mall, near Leccio Reggello).

Every journey to Italy is always a 'tour artistique'
A trip to Italy is always a tour artistique. There are so many artistic treasures and of such quality that to describe Italy as an open-air art gallery in its own right is hardly an exaggeration. No other country in the world can vaunt the same treasures of culture and art as Italy. Indeed, half of the world's historic and artistic assets are within its boundaries (UNESCO).
Found almost everywhere and referring to every historical era, they are preserved and protected in hundreds of archaeological sites and over 3,000 museums scattered throughout the country. Tourists, visitors and academics alike may admire and study these remnants – large and small – of centuries gone by.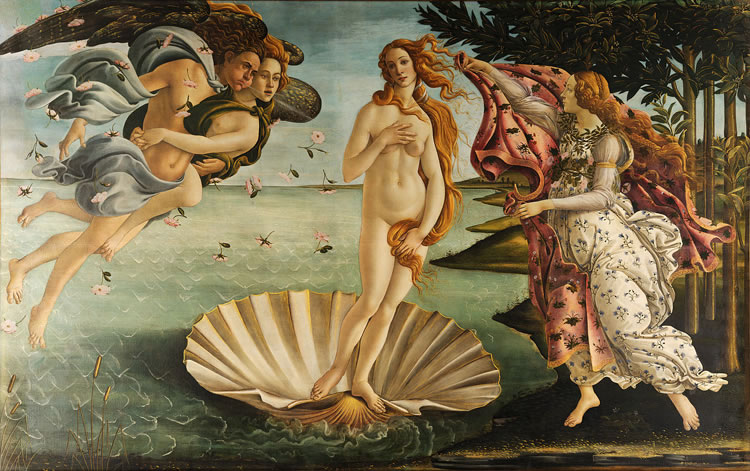 Theatres and other buildings date back to Greek and Roman times; whole cities, roads and districts once buried have today been returned to the light by patient and skilful excavations; temples, statues, coins, inscriptions, and objects of daily use.
In Italy an exceptionally rich store of memories await to remind us all of Europe's past. The imposing and often elegantly embellished Romanesque and Gothic cathedrals – built after the eleventh century – are found mainly in the Centre and North. The ancient religious architecture in the southern regions amounts instead to an enthralling crucible of Byzantine, Muslim and Norman elements. In all the regions, then, in every city and town we will find relics – from buildings to the personal affects – of a deeply rooted artistic tradition that is spread throughout Italy.
Renaissance art was the great cultural movement which began in Italy in the 15th century and which profoundly influenced the history of culture and European civilisation as a whole. The Renaissance culture placed man and the secular world again at the centre of the Universe after the marginal position Man was afforded with respect to the gods during the difficult centuries of the medieval period. Those who exemplified it and have become icons of culture itself are Leonardo da Vinci, Michelangelo Buonarroti, Masaccio, Botticelli, Piero della Francesca, Mantegna, Donatello, Raffaello, Antonello da Messina, Bramante, Correggio, Tintoretto, Giorgione – all artists, sculptors, painters or architects who have become known as the world's greatest exponents of artistic genius. Their works are the source of a constant attraction for tourists and academics alike, people who are curious to unveil something of the secrets of that art which, even if produced today, would result as an expression of the breathtaking creativity. For the arts and architecture, the Renaissance is synonymous with masterpieces, inventive genius and creativity. Philosophers like Giordano Bruno and Tommaso Campanella, scientists like Copernico and Galilei, scholars like Machiavelli, poets like Ariosto, musicians like Palestrina and Monteverdi: great men of the Renaissance who, with their modern vision of the world and society that was shared and supported by a rich and enterprising bourgeoisie, succeeded in radically changing forever the way of thinking, living and creating. The great Renaissance season left its magnificent marks everywhere in Italy, not only in the great cities like Florence, Rome, Venice, Milan and Naples but also in many other centres of Italy's regions. Paintings, statues, churches, buildings, palaces and fountains: a sparkling series of signs through which the visitor can ideally reconstruct a civilisation that really did change the world.